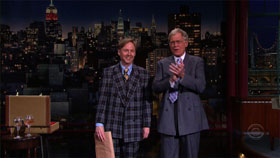 Latest News
Comedy-Magician Mac King to Host The World-Famous Magic Castle's 44th Annual Academy of Magical Arts Awards Show
Harrah's Las Vegas Headliner and Comedy-Magician Mac King will host the 44th Annual Academy of Magical Arts Awards Show on Sunday, Apr. 1, at 7 p.m. gala inside the Saban Theatre on Wilshire Blvd. in Beverly Hills, CA. A recipient of the "Magician of the Year" award in 2004, King now joins a distinguished list of celebrity emcees, including Neil Patrick Harris and Bob Barker, that have hosted this prestigious ceremony which is considered among many to be "The Oscars of Magic."
---
The Springs Preserve Hops on Mac King's Magical Literacy Tour
The Springs Preserve joins forces with Comedy-Magician Mac King, The Public Education Foundation and the Las Vegas Wranglers hockey team to host an additional book drive during Mac King's Magical Literacy Tour: Nevada Reading Week 2012
---
Mac King with the Sevens Rugby Players
Watch Mac King teach magic to the Sevens Rugby players from Canada and USA.
---
Get On-Board With Mac King's Magical Literacy Tour
Comedy-magician and Harrah's, Las Vegas Headliner Mac King is preparing to embark on Mac King's Magical Literacy Tour: Nevada Reading Week 2012, benefiting Clark County READS, the literacy initiative of The Public Education Foundation.
---
Comedy-Magician Mac King Launches New eBook
Accomplished author and Comedy-Magician Mac King announces the launch of his latest book Mac King's Magic in a Minute Mysteries, available on eBook platforms including Kindle, NOOK and Smashwords.
---
Comedy-Magician Mac King to Support RT Autism Awareness Foundation Inc.
Harrah's Las Vegas Headliner and Comedy-Magician Mac King will perform a special benefit show in Rochester, Minn. at "Mending Minds: A Magical Gala for Autism." King joins a masterful lineup of entertainers including his childhood friend, Master Magician Lance Burton, Comedian Bob Zany and the comedy & juggling of Michael Goudeau.
---
Mac King helps restore historic buildings in Louisville, Kentucky
"Developers pull magic trick in restoring historic Whiskey Row building" Read the article and watch a video
---
Comedy-Magician Mac King Goes Pink for a Cause with Fundraiser to Make Breast Cancer 'Disappear'
Comedy-Magician Mac King joins the fight to make breast cancer disappear during Breast Cancer Awareness Month with a special fundraiser benefitting Susan G. Komen of Southern Nevada.
---
Mac King Appears on Ch. 13's Vegas Morning Blend
Watch Mac King on Vegas Morning Blend
---
VIP Tickets Now Available at The Mac King Comedy Magic Show at Harrah's Las Vegas
---
More Mac King news...
Mac King Press Clippings
Read Mac's Blog
Mac King Press Kit
Mac King in the Press
"What's On"
The Las Vegas Guide, May 2011